Eden Paradox
The Eden Paradox
In 2063, Earth's overheated climate and war-ravaged cities are near breaking point. A new habitable planet is discovered within reach, but the first two missions have failed to return. This is the story of the third mission to Eden. What really awaits the crew of four as they make the long journey to this supposed uninhabited virgin planet, and what is the link to the secret 900 year old sect known as Alicians back on Earth? While Blake leads the Eden mission, a young researcher named Micah discovers a terrible truth that threatens the very existence of humanity.
"A science fiction thriller with terrific images and revelations." SF Author Gary Gibson
"The reader is pulled into an all too real future, with memorable characters, leaving the reader craving more." Lydia Manx, Piker Press.
---
Eden's Trial
First contact did not go well… Survivors are fleeing Earth, into a hostile galaxy where alien intelligence and weaponry rule. Can a deserted planet offer refuge? Or will the genetically engineered Alicians finish the job started on Eden. While Blake fends off attacks, Micah seeks allies, but his plan backfires, and humanity finds itself on trial for its very right to exist.
"This stunning sequel to The Eden Paradox launches us into alien political intrigue and intergalactic war of survival."
"Book two continues the success of its predecessor."
"Incredible alien races and intense pacing. Buckle up for the ride of your life!"
---
Eden's Revenge
After eighteen years, the quarantine that has protected humanity's survivors on the planet Esperia is about to end. Mankind won't stand a chance without external help. Yet in the middle of a galactic war, who is concerned about one small planet when worlds fall every day? Eden's Revenge is the heart-stopping third episode in the Eden Paradox series.
"Awe-inspiring aliens are swept up in an epic narrative." Sophia McDougall, best-selling SF author of Savage City
"Brilliant plotting, sizzling action, the tension and pull of the story keep it steamrollering along." Gideon Roberton, screenwriter and author.
"Seriously, the best one of the three, I read the last half straight through–couldn't put it down." Jacob Millican, reviewer, USA.
---
Eden's Endgame
The battle between the Kalarash and Qorall for the entire galaxy rages on. Qorall has released a new weapon, the Orb, that seems unstoppable even by Kalaran, and the humans must go to extreme measures to rescue captives from the Alician homeworld. The final battle, for control of the galaxy, will be fought at Hell's End, where only one side will prevail, and where the secret of the Spiders is finally revealed…
"Emotional rollercoaster, fantastic finale!"
"This book is the perfect ending to a perfect series!"
---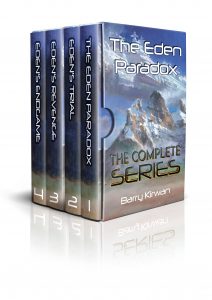 The Complete Eden Paradox series in one single volume – all four books – follow Micah, Blake, Kat, Pierre and Louise on their non-stop, galaxy-quaking adventure!
The entire Eden Paradox series, all four books in one volume. From the discovery of a desperately needed new planet, Eden, to humanity's escape to the stars, to finding a new home on the planet Esperia, to fighting the galactic invader Qorall and the Machine species who will end all life… This is epic scifi, seen through the eyes of a handful of men and women trying to survive and hold onto their humanity in a hostile universe…
"A galactic story like no other that I've read. The characters develop over the four books – in unexpected ways; I couldn't put it down. It culminated in an unexpected – but satisfying end but one that leaves the door open for a new series. The best I've read yet."
"Absolutely loved this series. I read them one after another. Intelligent, old school sci-fi, well written believable characters. An epic story taking you from a war torn contemporary Earth to a galaxy-spanning league of alien civilisations. Loved every minute."
---
Children of the Eye
Nathan, emotionally scarred after three tours in Afghanistan, lives alone in Manhattan until New Year's Eve, when he meets Lara. The next morning, he notices that something odd is going on – a terrified kid is being pursued by his father, and a young girl, Sally, pleads with Nathan to hide her from her parents. There is no internet, no television, no phone coverage. Nathan, Lara and Sally flee along the East Coast, encountering madmen, terrorists, the armed forces, and other children frightened for their lives. The only thing Nathan knows for sure is that he must not fall asleep…
"A fantastic and original premise…flashes of Stephen King and MR Carey." Tom Witcomb
"A nicely taut thriller, with a Lee Child feel to its staccato writing and strong action sequences, and a high concept stretching the novel into true science fiction territory." Amanda Rutter.
"Not just a page-turner – all in all a fabulous novel, which I was sad to finish." Loulou Brown
---
When the Children Return
Ten years have passed since Nathan, Sally and the others awoke to a world gone mad, and the great culling began. Ten years since they encountered the murderous Axleth, and humanity's only ally, the alien AI named Ares. Ten years of preparation to take back their world. Sally and the other children are adults now, relentlessly focused on revenge and rescuing their planet. But what truly awaits them? What have the Axleth used humanity for in the intervening years, and what has become of the last vestiges of 'uninfected' humanity? As the inevitable war draws closer, tensions spike as Sally finally discovers the truth about the Eye…
---
Greg Adams
The Dead Tell Lies
Greg Adams specialises in bringing serial killers to justice, and is at the top of his game when his wife is brutally murdered by The Dreamer. A year later, unable to bring the killer to justice, Greg is ready to end it all, when he receives a phone call from a man who tells him The Dreamer is dead, and that he didn't kill his wife. In order to find the real killer, who begins a fresh killing spree, Greg must delve into the minds of the six terrifying psychopaths he has put away. This time he might not make it back in one piece. And the killer has Greg in his sights…
"Fast-paced, absolutely gripping."
"Greg Adams is an unconventional detective we can invest in deeply."
"Reminded me very much of The Silence of the Lambs, in all the best ways"
---
Nadia Laksheva
66 Metres – The only thing worth killing for is family
Everyone said she had her father's eyes. A killer's eyes. Nadia knew that on the bitterly cold streets of Moscow, she could never escape her past – but in just a few days, she would finally be free. Bound to work for Kadinsky for five years, she has one last mission to complete. Yet when she is instructed to capture The Rose, a military weapon shrouded in secrecy, Nadia finds herself trapped in a deadly game of global espionage. And the only man she can trust is the one sent to spy on her…

"Masterfully paced…a cinematic and action-packed read that will have readers following Nadia to the ends of the Earth!" – BestThrillers.com
---
37 Hours – The only way to hunt down a killer is to become one
Imprisoned by MI6 for two long years in solitary, Nadia suddenly finds herself free again. But there is a price to pay for her release. Another dangerous and near impossible mission – retrieve the Russian nuclear warhead stolen by her old nemesis, the deadliest of terrorists. But he is always one step ahead, and soon Nadia finds herself at the front line of preventing London from disappearing into a cloud of ash. Only this time, she is ready to pull the trigger at any cost. And with the clock counting down from 37 hours, time is running out…

"Nadia is a heroine readers are bound to fall hard for!" – BestThrillers.com
---
88˚ North – This time she'll track her nemesis to the ends of the Earth
The world's most-wanted terrorist is on the loose, and now the threat is global. To stop him, Nadia infiltrates his organization, from the triads of Hong Kong, to the refugee-smugglers of Sudan, to the Mafia gangs running oil platforms in Sakhalin. But in the end, she must travel to the top of the world and confront her sworn enemy on the Arctic ice, where she will face a terrible choice.
"Fast-paced and full of twists – Kirwan's atmospheric settings of brutal killings in Hong Kong, and full-throttle action in the frozen north of Russia will keep you on the edge of your seat. Dive right in!"
"Explosive finale! J.F. Kirwan saved the very best for last in the Nadia Laksheva trilogy with 88° North."