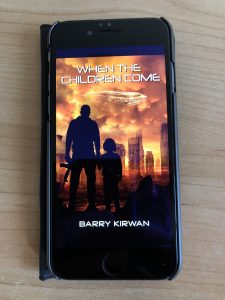 The electronic (kindle) version of When the Children Come was launched yesterday, and immediately shot into the top 50 'Alien Invasion' category on Amazon.co.uk, which is great because the marketing doesn't kick in until tomorrow (Sunday). The Blog Tour also started with some great reviews:
"When the Children Come is unique and creative scifi that I didn't want to put down!"
"The world the author has created is scary, blood-fuelled and addictive!"
Also "echoes of Stephen King", and "…characters who are incredibly appealing"
Nathan, Lara and Sally are off to a good start!…
My latest book is almost out. The Dead Tell Lies has been two years in the making, and earlier this year was snapped up by Bloodhound Books in a two book deal. It tells the story of Greg Adams, a criminologist who has put six serial killers away. But when someone starts copying their murder styles, Greg finds himself being framed for the killings, and realises he is up against a grandmaster…
The book is set in and around London, including several places close to where I grew up and know very well.…
When I read my first Jack Reacher novel (61 hours, by Lee Child), one phrase struck me. It's in every Reacher novel, sprinkled sparingly into the prose like a subtle spice.
Reacher said nothing.
Usually it's in the midst of tense dialogue, at a point where nineteen out of twenty people, and thus most readers, would have said something. But Jack Reacher held his tongue. Not because he was afraid to speak, quite the reverse. It made me, as a reader, re-evaluate what I would have said, and come to the conclusion that Jack was right, it was better not to speak at this point. …